It's the last Friday of the month and tomorrow is the last day of the month. Wahoo!
Goodbye February and...
The girls and I have all been fighting off ear infections, and then Jesse ended up with an eye infection that we are assuming was pink eye. I bought myself a "hang in there, Mama" coffee on Wednesday. It helped! ;)
I ordered "31 Days to a clutter free life" and it just showed up a couple of days ago. Just in time to start my spring cleaning. I don't feel like my house is awful... but we have our "hot spots" where everyone comes home and dumps their stuff and I'm constantly trying to clear off certain counters and/or my desk. So I'm up for any advice or tips she has for me.
Yesterday was my older sister Lindy's birthday. A bunch of us girls in the family and whatever kiddos aren't in school yet, all met up for birthday lunch. I wish I would have taken a picture of everyone. I think there was 11 of us... needless to say we take up a large table.
After lunch, my Mom, younger sister Leslie, and I all met up at my parents house to start working on birthday dinner. We made 3 pans of lasagna, visited and listened to music. Good times.
Birthday Girl with our niece Shea.
Thankfully, Leslie remembered to take a picture. I was only thinking about cheesecake at this point! Haha! ;)
The kids don't have school today, so we get to stay home and have a lazy day. We have a couple things planned for the next couple of days, but nothing too big. So hopefully we'll all work on staying healthy and enjoy the weekend!
Today I linked up with
&
Christina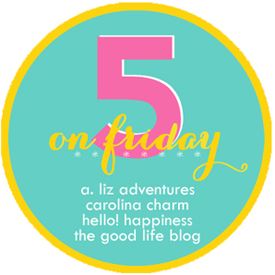 Have a great weekend friends!
xoxo