I have been away from my blog for the last week and a half, but I'm back. We were getting all caught up around the house and ready for Spring Break, and then we took a little trip down to California to visit my husbands parents. They are down there for the winter and it was a nice time to go for a little visit with the kids out of school for Spring Break.
Isn't this view from the golf course beautiful! I love the rugged mountains that they have down there and the weather was perfect, but as much as I love traveling... it's always so nice to be home.
I love my Young Living oils. I haven't researched to see if Young Living carries peppermint beads or not, but I am in love with these peppermint beads from doTerra. I used up my last bottle of beads and was nervous leaving town without them. My friend gave me hers to make it through the trip. I know I can use peppermint oil as well, but these are just so dang easy. We can be driving down the road or doing whatever and if the kids belly's are upset, or if I've eaten a bit too much and feel uncomfortable, we just swallow 2 beads and feel better quickly! I guess I need to do some research and see if YL has them as well.
I bought a blogging book a couple of weeks ago and am just getting started on it. I love the quote that she put in, that says, "Don't compare your beginning to someone else's middle", by Jon Acuff. Somedays, I feel like I don't have anything exciting or interesting to share on my blog, because for the most part it's all just mundane things in my life, but my mundane might just be different to someone else's mundane... which makes this whole blogging world so fun.
The warm weather in Montana right now has been amazing!!! Yesterday it got up to 60 degrees. I know that it's still March and in Montana anything can happen. It could snow again soon and stick around until June, but we are all soaking up the sunshine and warmth and saying our prayers of thanks!
Our family loves watching 19 Kids and Counting and Fixer Upper. With all the junk on tv, it's so nice to have good shows to be able to sit down and watch with the kids. After being gone all week, we sat down and got caught back up on the episodes that we missed. What did we all do before DVR? We've watched Little House on the Prairie and I Love Lucy and loved both of those. We bought both of those series and watched them through a couple of times, but haven't come across anything else for a while. We like having something light and funny to watch in the evenings while we unwind. If anyone has other family friendly recommendations, I'd love to hear.
Today I'm linking up with
Andrea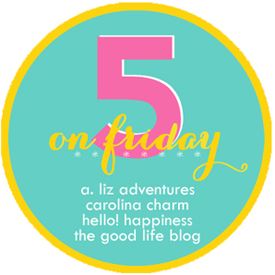 Have a great weekend everyone and I'll be back next week with a recap of our trip to Palm Springs.